How Companies Should Adapt in Digital Transformation Era
Digital transformation was one of the most popular topics in 2020, well it did not lose its popularity in 2021 and it seems that it will be one of the hottest topics as well in the coming years. Companies embarked on a rapid digital transformation path to adapt to the current situation. In 2020, lots of companies have switched to remote and hybrid working models during the pandemic. Even if there is a prejudice against hybrid and remote working models, many studies show that they do not affect productivity negatively. Working models only a small part of digital transformation. It is literally more than that.

What Is Digital Transformation?
Digital transformation is not a buzzword anymore. Therefore, it is essential for companies, staff, and also customers. Every year, more news, more articles, and more studies about digital transformation are published. Google trends show us how people search about it since 2004;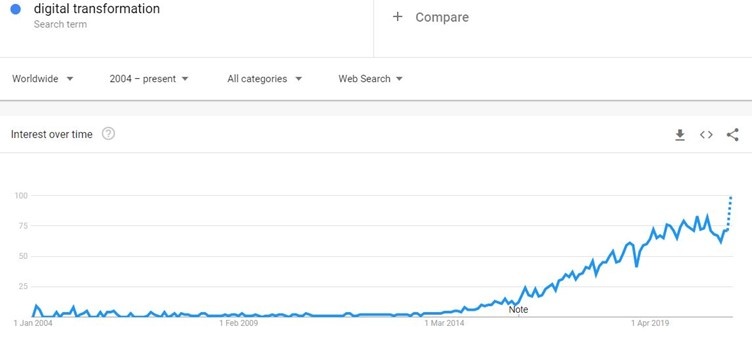 According to Salesforce "Digital transformation is the process of using digital technologies to create new — or modify existing — business processes, culture, and customer experiences to meet changing business and market requirements."
The Wikipedia definition is more detailed, obviously. It states that "Digital solutions may enable – in addition to efficiency via automation – new types of innovation and creativity, rather than simply enhancing and supporting traditional methods."
What we are seeing in the above definitions is that "alteration." Well, alterations may be different for each company. Some companies need small alterations and some of them may need extensive alterations to complete their digital transformation.
An Example in Practice
In the prevailing opinion, digital transformation starts and ends with customers. This is not wrong of course. But sometimes it starts with a company as well. I am going to give you an example.
Most of the people were using external hard drives, weren't they? But nowadays we use Google Drive or other cloud solutions, right? People don't need a hard drive anymore. As you can see, the digital transformation started with the company and ended with customers. We didn't tell Google "Hey Google! create cloud storage for us." Instead, they designed this solution and launched the product for use for free up to 15 GB! Google added value to our lives and made life easier for every people in the world. I am using Google Drive, not a hard drive. Even if I need more storage, I can upgrade my capacity. So why would I use an external hard drive anyway?
In this example, we actually see the process of transformation. Let's see it in details;
1) I was using a hard drive to store my files, pictures, documents, movies, etc.
2) Google launched Drive. (transformation has been started)
3) Google transformed (replaced) physical hard-disc into cloud storage digitally.
4) I started to use Google Drive and liked it.
5) I transformed my habits because I am not using a hard drive anymore. (the transformation has been completed) 
Elements of Digital Transformation
When we talk about elements of digital transformation, we see different approaches and perspectives. I would say the best approach is the one determined by McKinsey. There are 6 key elements for success according to the framework;
Business-led Technology Roadmap
Talent
Agile Delivery
Technology & Tooling

Data Management

Adoption and Operation Model change
These 6 elements are a characteristic part of the transformation. Without one, others can be adversely affected.
Digital Transformation Framework
Successful transformation desires a well-structured roadmap and strategy. I will share some examples of frameworks that were conducted by Cognizant, Gartner and Accenture.
Cognizant Framework
This framework states that "By embracing Code Halo thinking and a programmatic approach to business process change, organizations can better engage with customers and deliver mass-customized products and services that drive differentiation and outperformance."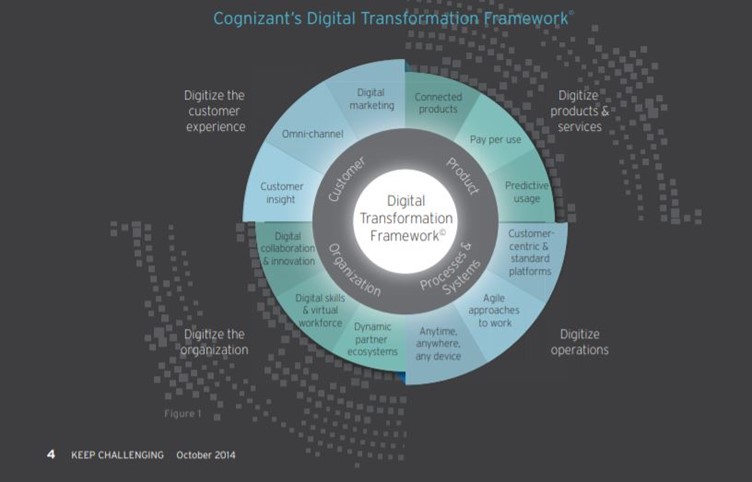 Source: Cognizant
Accenture Framework
Accenture points out platform strategy and names it platform economy. 4 main components of the strategy are;
Rewards sharing
New digital metrics
Platform mindset
Collaboration-first culture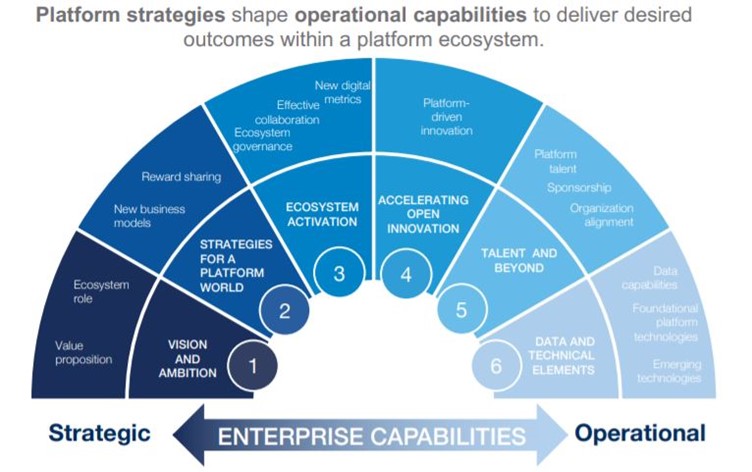 Source: Accenture
McKinsey Framework
McKinsey's framework is studied with automotive suppliers (OEMs). New business models such as self-driving cars and electric vehicles in the automotive industry appeared in the last years. For this reason, automotive suppliers started to work on digital transformation.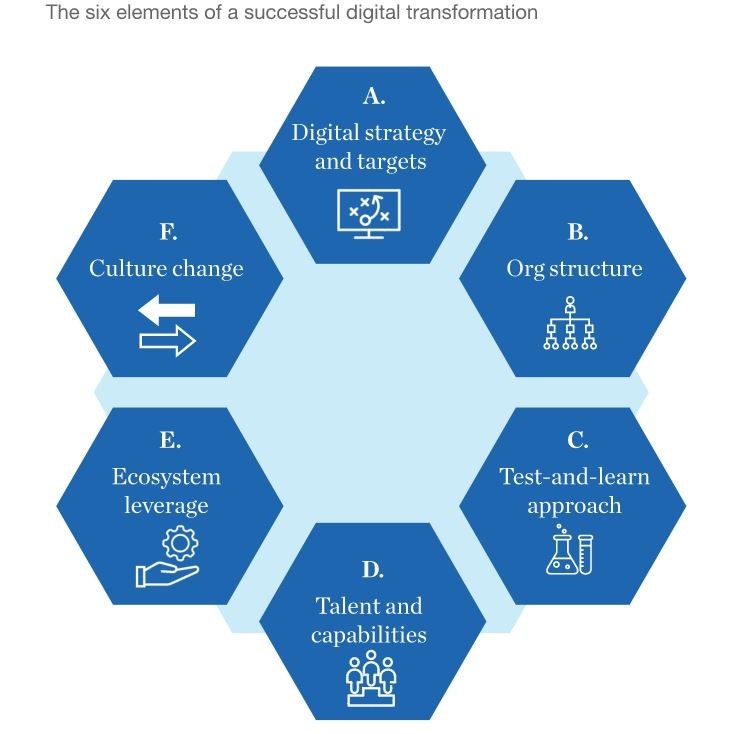 Source:McKinsey
Rise of New Jobs and Good Bye to Obsolete Occupations
While technology start-ups challenge the status quo, they also bring innovations and new roles to life. According to World Economic Forum, the roles which in demand increases and decreases are as follows: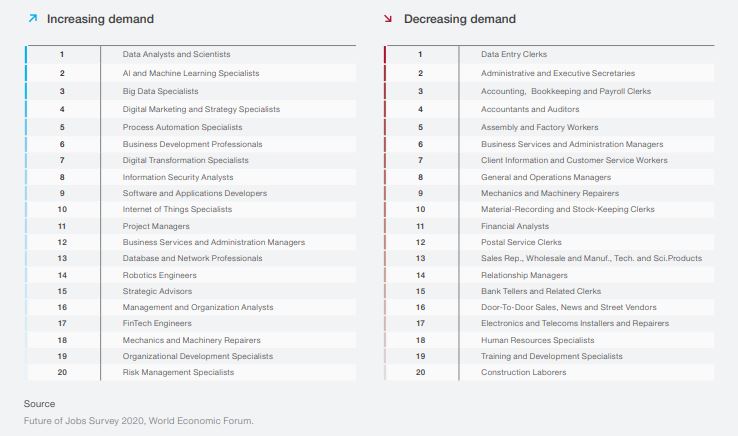 As you can see the roles in Data Science, Machine Learning, Digital Marketing, RPA (Robotic Process Automation) are increasing in demand. On the other hand, the roles such as data entry clerks are no longer wanted. Bookkeeping and Payroll Clerk roles are also decreasing in demand. We cannot say these sort of roles will absolutely disappear in the near future but at the end of the day, there is definitely less demand for these roles than before.
Conclusion
The digital transformation has become an inevitable reality for both companies and employees and even for customers. While companies take innovative steps in this process, employees are also trying to adapt to the situation by updating their skills.
Every step taken without a strategy is like driving without knowing the way. In the digital transformation process, companies need to prepare a good strategy and framework at first.
Secondly, companies need to find the right talents for the right roles and establish an organizational structure suitable for digital transformation. Instead of being a monoculture, creating diversity in the company is also important.
Lastly, determining which technologies to use is a very critical decision. There are many opportunities created by technology but not recognized by most companies. It is crucial to find new opportunities and technologies as well as the tools.
If you are interested in RPA technology and Kronnika RPA solutions, feel free to contact Kronnika to get more information and start saving time for the post-Covid era!