We will try to explain "The Business Value Of RPA" in this article. Let's start with the definition of RPA
What Is Robotic Process Automation, How Does It Work?
Robotic Process Automation (RPA) is a technological application that uses robotic software to automate rule-based, intense data entry, and repetitive operations that do not require human added value. Many time-consuming and labor-intensive business operations can be automated, such as data entry, image recognition, and optical character recognition (OCR).
In Which Areas Does RPA Benefit Us?
The advantages of RPA are numerous and extensive. You may use software robots to improve several elements of your business:
Process efficiency and time savings
Focus on value-added business
Manual and repetitive operations can be done at a lower cost
Minimizing the error percentage
Customer success
High return on investment (ROI) rate
Completely traceable with interfaces
Why Should You Automate Things That You Do Repeatedly?
Repetitive tasks can be automated to save time and money. Robotic process automation robots accomplish tasks more quickly, enhancing the value of the automation platform and allowing workers to focus on higher-value tasks.
The Business Value of RPA; Global Market Share By Application
Rapid internationalization has resulted in an increase in data volumes and transactions organized around older systems that are difficult to integrate. This demands automation solutions to enable organizations to realign their resources to focus only on high-value facing customer and strategic roles instead of repetitive tasks.
Due to the rising implementation of RPA solutions in the healthcare, pharma, and life sciences industries, the pharma and healthcare segment is predicted to grow at the quickest CAGR throughout the forecast period.
The use of RPA in hospitals and vaccination clinics aids in vaccine scheduling, storing portable vaccine records, supply chain management, and expediting other end-to-end vaccination operations. Thus, the changing healthcare scenario due to the pandemic is expected to increase the demand for RPA in time-consuming tasks.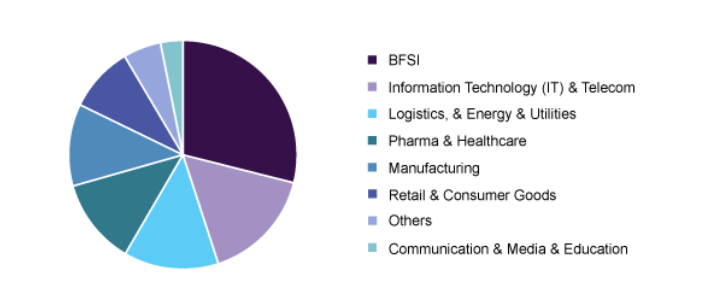 The Business Value of RPA Worldwide From 2017 to 2023
From 2021 to 2028, the business value of RPA is predicted to develop at a 32.8 percent compound annual growth rate (CAGR). Due to the pandemic-induced work-from-home condition, a shift in firm business operations is likely to favor market growth. Furthermore, the market is likely to be driven by the growing desire to automate repetitive processes.
In 2020, the business value of RPA has exceeded four billion dollars. According to forecasts, the market will continue to develop in the next years, with a market value of more than 10 billion dollars by 2023.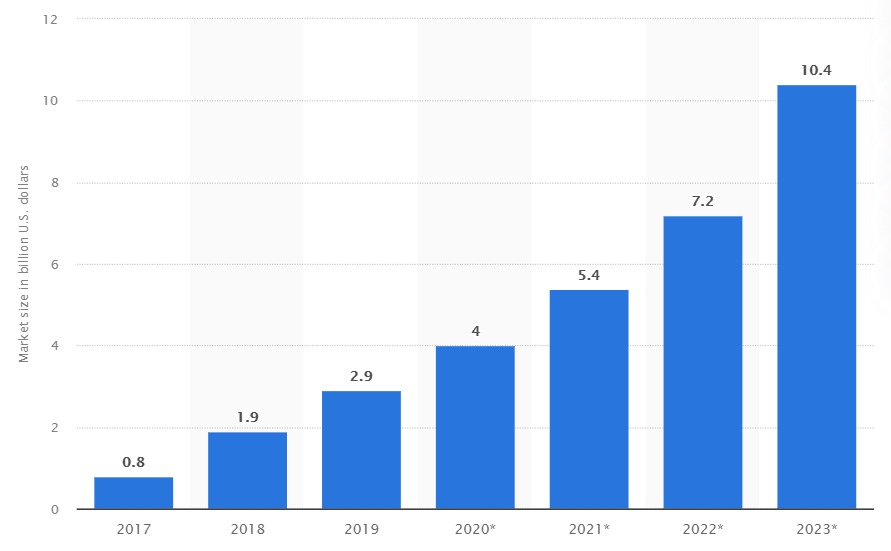 In conclusion, with many niche small-scale and established large-scale suppliers offering sophisticated robotic process automation systems. The industry is described as very competitive.